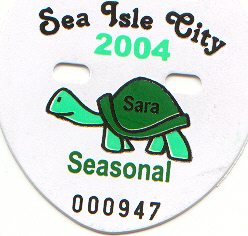 Sea Isle Ciy, NJ - Cindy Shaughnasy, 18, of Fort Washington, PA is in her 2nd season as a beach tag seller/checker in this family-friendly South Jersey town. Though thousands apply only 36 are hired for the summer and 2 are chosen to stay on to work autumn, winter and spring.
For those that frequent free beaches beach tags are a fee for using New Jersey's beaches, one of 4 coastal states to charge sun seekers to sit on their sand. The state justifies the tags because it claims to spend billions of dollars to replenish sand, comb, collect trash, and operate a beach tag system.
"I actually had someone tell me that they forgot it at the house. Do you believe that? That's the craziest excuse I've ever gotten." said Shaughnasy.
Shaughnasy's usual partner, Debbby(spelled with 3 b's) Schmidt, 19, has also heard some wild excuses as to why a beach goer is without a tag.
"Last week I approached this couple, they were eating lunch, and once they saw me pretended they were asleep. Eyes closed and heads leaning forward and everything. The man was still chewing while he pretended to sleep. Completely outlandish."
Schmidt said that a friend of a friend in Avalon, NJ, who is also a tag checker, was told by a family that their tags had actually become lodged inside the umbrella pole. While another group showed the girl a handful of small shells and insisted they were tags.
"It's a tough job and all. But, like, I'm on the beach all day and all. It's hot and all. But it's great and all too," said Schmidt.