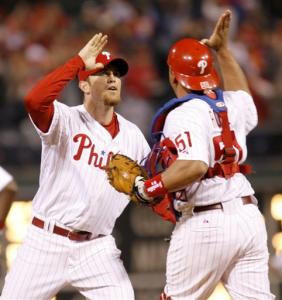 Yesterday the Phillies outlasted the Arizona Diamondbacks, 6-3, to guarantee a first place finish in the National League East at the All-Star break.
"Bunch of throw-backs are in first place in the National League East at the All-Star break," cried a joyous Harry Kalas, the Phillies Hall of Fame announcer.
Radio announcer Larry Anderson and post-game show host Jim Jackson had tears streaming down their cheeks.
"Although it's not hockey and I've never completely understood baseball this is sweet. This is like a goal scored from center ice," said Jackson while spraying co-worker Chris Wheeler with champagne.
The 30th sellout crowd of the year stood and cheered as Brad Lidge struck out Mark Reynolds to end the game. Seven dollar beers were carefully guarded as celebrations broke out in many sections of Citizens Bank Park.
In the parking lot vendors were already selling $20 t-shirts that read: "2008 Phillies: First Place at the All-Star Break."
Lonely vendor Sal Klein shouted,"Peanuts, pretzels dollar a bag." The sullen Klein decided at the last minute against partnering with a friend to sell the first place all-star t-shirts. "It was a bad choice."
The parking lot was filled with honking car horns and repeated shouts of,"we're number one at the halfway point, although technically we're past halfway."