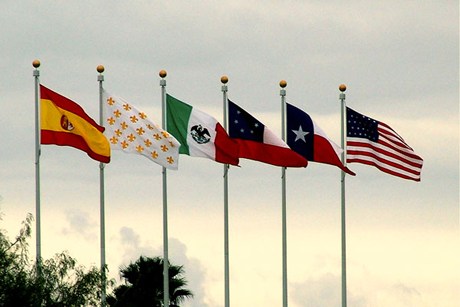 Four flags over Texas? Doesn't quite have the same ring to it. However, this is the situation in hurricane-ravaged coastal Texas. Two of the state's six famous flags were ripped from their flagpoles in the city of Houston on Saturday where hurricane Ike's winds reached 80 mph.
One flag turned up in Idabel, a town in the southeastern corner of Oklahoma. While the other flag was found in De Queen, Arkansas, located in the southwestern region of that state.
"We're currently in negotiations with the two states to have the flags sent back to Austin," said a visibly shaken Tom Gutierrez, a Texas government official.
A law passed in 1799 states that all flags that cross state lines, intentionally or unintentionally, must be returned in a timely manner and in excellent condition no matter their current state. The law was created to deter a repeat of the 1795 Delaware Flag Incident.
In 1795 the Diamond State lost the state flag in a huge Nor'easter storm that carried the flag into New Jersey, some 40 miles to the east. New Jersey officials wrote a letter to the Delaware Statehouse: "We got your flag and we sent it back to Dover via a riderless donkey. What? It never arrived? Ha ha ha."
Texas hopes to have the flags back and flying high by the end of the month if negotiations are successful. If not, the Six Flags theme parks located across the country will be renamed accordingly.