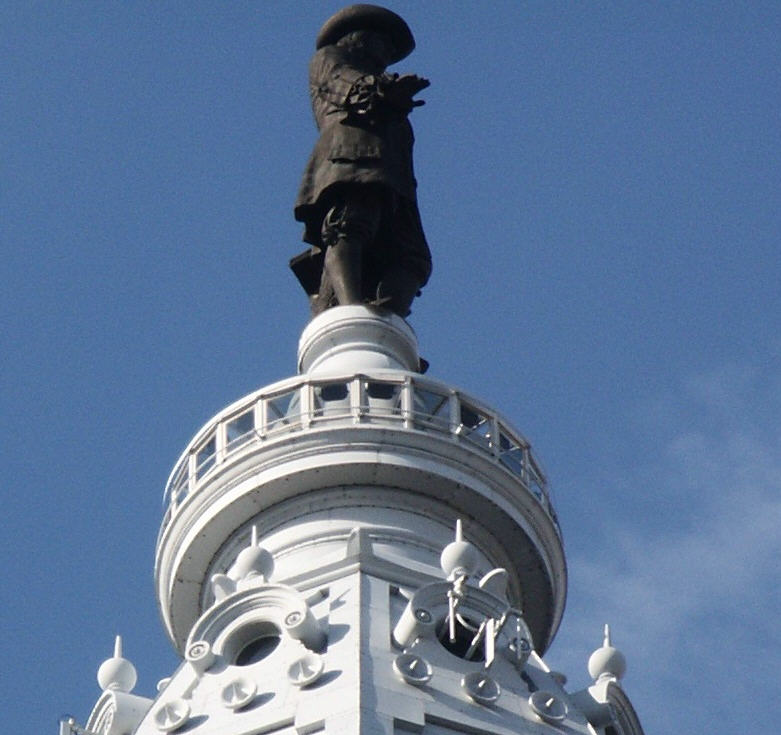 After several test screenings of various scenes from
William Penn
the movie, director Clyde Fulston has decided to meet with writers to change the story.
"The reception from the few scenes that we have filmed was very...lukewarm," said Fulston.
Currently the story has the William Penn statue atop City Hall coming to life after being struck by lightning and becoming a hero by fighting crime and helping the less fortunate.
The story will now have the 37 foot Penn come alive to personally help end the professional sports championship drought in Philadelphia. Penn feels very guilty about the curse and wants to make amends to the city he founded nearly 400 years ago. He joins all four of the major sports teams in the city and ends up dominating their respective leagues.
As a member of the Sixers he goes up against Shaq only to humiliate the all-star Miami center. He finishes second in the league in rushing as a running back for the Eagles. Pitching his way to a Cy Young award for the Phillies, he in turn ruins pitching mounds across the league. He struggles somewhat on the Flyers because of his weak skating skills, but as a goalie yields only 4 goals the entire season. The four teams become dynasties for the next 15 years.
One scene has a sobbing Penn being consoled by Mayor Nutter about the new skyline surpassing his hat. Fulton would not give away the ending, but said, "he puts another crack in a local symbol of freedom."