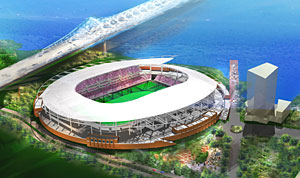 After months of suspense the Philadelphia area has finally secured an outdoor professional soccer team to play on the waterfront of Chester, Pa. The 16th MLS team will begin play starting in 2100 as the 92 year delay is necessary for finalizing all plans. "We're excited for the next generation that will be able to enjoy soccer, if the sport still exists, along the scenic Delaware River," said Slate Timlin, MLS rep.
The stadium should be completed within the next two years but will sit vacant for 90 years while all the paperwork is completed. "There's a lot of paper work involved. It really is a mess. A bureaucratic mess," said Jason Sugarton, the new franchise's majority owner. Sugarton plans to leave the team to his grandchildren or great grand children. "I am very excited for my future relatives."
The biggest concern about the long wait period for the club to begin play is global warming. The new stadium will be adjacent to the Delaware River and rising sea levels could land the facility several feet under water by 2100. "I'm hoping this whole global warming thing is taken care of by then," said Timlin.
"We're just so excited about this new franchise and can't wait to see it ... I mean...for future fans to see it," said Chester mayor Jim Gilbert.